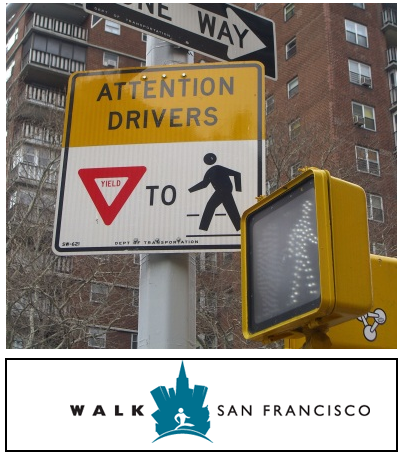 "The Invisible Pedestrian."
Interview with Natalie Burdick, Walk SF
by Willi Paul, PlanetShifter.com Magazine
Pedestrian Safety Tips for Kids -
* Talk to your kids about how to be safe while walking. Always walk on sidewalks or paths and cross at street corners, using traffic signals and crosswalks.
* Teach kids to look left, right and left again when crossing the street. Remind them to make eye contact with drivers before crossing in front of them and to watch out for cars that are turning or backing up.
* If your children need to use a cell phone, make sure they stop walking and find a safe area to talk. Teach kids to look up and pay extra attention when using headphones and to remove them when crossing the street.
* * * * * * *
Interview with Natalie by Willi -
Pets on or off leases, cigarette smokers, boarders, homeless people, you and me; we are all part of the sidewalk ecosystem. How does Walk SF integrate all of these and other uses?
Walk SF is the only nonprofit that works to make walking safer in San Francisco by addressing the leading, preventable cause of pedestrian injuries and deaths: vehicle collisions. Walk SF and its members focus on securing street improvements like lower speed limits, road diets, crossing signals, countdown timers, sidewalk widening, and greening, as well as increased traffic enforcement for the most dangerous driving violations, to keep people safe when they walk.
What are the major safety issues for pedestrians in SF? Do all neighborhoods have the same concerns?
While 11% of traffic deaths nationally are to pedestrians, in San Francisco 50% of these deaths are to people walking.
In fact, over 800 pedestrians are hit by cars in San Francisco annually. Last year, the number was nearly a thousand -- which means, on average, cars hit three people a day in the city! Most tragic of all, each year 20 people die from these preventable collisions. In 2013, nine people have already died -- individuals including 17 year-old high school student Hanren Chang and retired math teacher Tania Madfes who lost their lives while walking.
The only silver lining in any of this is that over half of all pedestrian injuries and deaths occur on just 5% of San Francisco's streets. These high-injury corridors are concentrated in certain areas like the Financial District, the Tenderloin, Chinatown and along streets in neighborhoods like the Mission, Sunset and Richmond. By fixing these 44 miles of wide, fast arterial streets such as Geary, Van Ness, Sloat and sections of 4th and 6th Streets approaching the freeway, the City could cut these injuries and deaths in half.
The City recently announced a plan called the Pedestrian Strategy that could make this a reality. The plan includes measurable infrastructure improvements and increased police enforcement of traffic crimes to reduce pedestrian collisions on the city's most dangerous streets. Walk SF's members are now advocating for the funding and implementation of this plan.
Putting aside the rules of the road and the mechanics of driving a car, what makes an unsafe driver?
The leading cause of pedestrian injury and death is driving speed. In San Francisco, speed accounts for ten times the number of injuries as driving under the influence of drugs or alcohol. If a pedestrian is hit by a car going 40 mph or faster, their chances of dying are one in three. If the car is going 20 mph -- the odds are only one in ten.
In addition to unsafe speeds, drivers that fail to yield to pedestrians in crosswalks or make unsafe turns at intersections are the most dangerous to people walking.
What role, if any, do the new SF parklets bring to the pedestrian experience?
Parklets create much needed open, public spaces and offer aesthetic and rest benefits for pedestrians, as well as economic and social benefits for communities at large. But parklets also function as one example of a set of streetscape design elements that can calm, or slow traffic. Parklets, bulb-outs, greening on sidewalks and in medians, well-marked or raised crosswalks, and even bicycle-lanes all function to give drivers visual clues that they need to share the road with other users and drive with greater caution and reduced speed. And as evidence clearly shows, slower speeds make it safer for pedestrians.
How easy is it for pedestrians to get violators ticketed? What is involved?
In the past, pedestrians have been able to coordinate "stings" at intersections with high violation rates by working with local San Francisco Police Departments in their respective districts. Efforts that focus school and senior zones have been the most successful targets for these increased enforcement efforts.
What are the key challenges to pedestrian safety at construction projects?
Construction projects that create barriers preventing pedestrian from gaining access to a clear path of travel (at least four feet of sidewalk or protected byway, if the sidewalk has been closed), put pedestrians at the greatest risk by forcing them to walk around the building site and into the street and car traffic.
Where did automobile drivers get the notion that pedestrians are second rate?
Car-bias has been culturally and institutionally ingrained over time, but it hasn't always been the case. In fact the term 'jaywalking' was re-invented as part of a PR campaign in the 1920s to shift the blame in collisions from cars to pedestrians and move popular sympathy from supporting the victims to blaming them.
Since the post-War era, roads have been designed to move large volumes of cars at high speeds. Roads have not been designed as 'complete' or 'shared' streets, and as such -- drivers have (and not surprising, perceive they have) primacy over pedestrians (and indeed all other users of our streets). Even the word pedestrian is a biased term that demeans the walker -- the word's Latin root "pedester" refers to foot soldiers (e.g. peons), rather than soldiers of the calvary.
But the truth is, whether one drives, takes transit, or bicycles -- every trip taken both starts and ends with walking. Walking is one of the things that defines our humanness. And, as both the most healthy and sustainable form of transportation (and arguably most economical), it certainly doesn't merit its perceived second rate status.
Bicyclists killing pedestrians: are bikers receiving the same due process under the law in SF?
In San Francisco, 20 vehicle-pedestrian deaths have occurred every year over the past decade; contrast this with the two reported bicycle-pedestrian crash fatalities that received national media coverage this past year. Over 200 lives have been lost; where is the attention in the news? In fact, while both of those bicyclists were criminally charged, a recent analysis by the Center for Investigative Reporting found that Bay Area drivers who kill pedestrians rarely met with any punishment. An incredible sixty percent of drivers that were at fault, or suspected of being at fault in pedestrian collisions, faced no criminal charges at all.
To add insult to injury, even when drivers were charged for speeding, running stop signs, or not yielding to a pedestrian's right of way, over 40 percent of those drivers did not lose their licenses, even temporarily.
So no, in San Francisco, bicyclists that kill pedestrians do not receive the same due process as drivers who have killed one hundred times as many people from the seat of their cars.
* * * * * * *
Natalie 's Bio -
After moving to San Francisco in 2012, Natalie Burdick joined Walk San Francisco's as its Membership and Volunteer Director. She joins Walk SF after five years in marketing and development at Santa Monica's Heal the Bay, where she led the environmental nonprofit's social media, third party events and constituent management programs. Prior to her water quality advocacy experience, she spent fifteen years in product, project and channel management in the software industry.
Connections –
Walk SF
info @ walksf.org
(415) 431-WALK
995 Market Street, Suite 1450
San Francisco, CA 94103