"lawyers, guns and water" - a permaculture sound comic. 

New Myth #64 - Willi Paul, CommunityAlchemy.com
Watch the LGW Video here.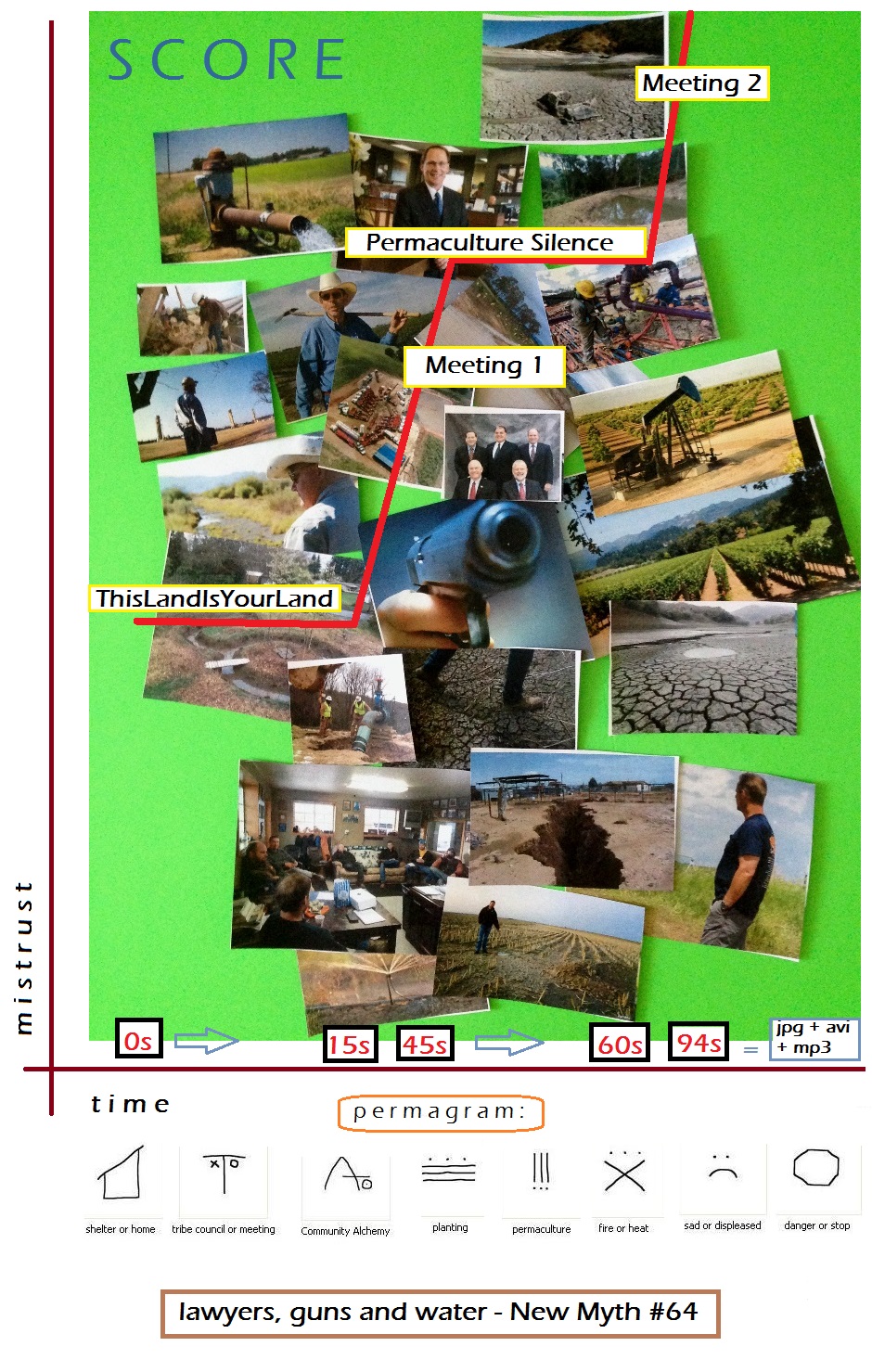 * * * * * * * 

"Groundwater is like a bank account. You can't take out more than you put in on an ongoing basis."
"Scientists are already sounding alarm bells about pumping too much groundwater. State water managers estimate that water tables in some parts of the Valley have dropped 100 feet below historical lows. As water levels sink, the land can sink, too — in some places by about a foot per year. Groundwater pumping could also put more stress on the San Andreas Fault. "If you own property, you can dig a well and you can pump as much groundwater as you a want," says Famiglietti, "even if that means you are drawing water in from beneath your neighbor's property into your well. So it's not unlike having several straws in a glass, and everyone drinking at the same time, and no one really watching the level."
That could change. SB 1168 making its way through the state legislature could, for the first time ever, require local agencies to track, and in some cases, even restrict groundwater pumping. Some farmers oppose it, saying it's a violation of their property rights. But retired attorney and water activist Jerry Cadagan says counties should be thinking hard right now about the permits they're giving to farmers to drill thousands of new wells. "You've got to put reasonable restrictions so people are only pumping out a reasonable amount of water that underlies their land," says Cadagan, who lives in Stanislaus County, and is suing farmers there for drilling wells without considering the environmental impact.

* * * * * * * 

Sound Sample Credits -
Floor_trading6.wav
https://www.freesound.org/people/touchassembly/sounds/146320/
GunRange_Mega3.wav
https://www.freesound.org/people/touchassembly/sounds/145580/
gurgle.aiff
https://www.freesound.org/people/eirons/sounds/117084/
Gas wird angezündet
https://www.freesound.org/people/mwirth/sounds/137174/
Shopping -- At The Check out --.wav
https://www.freesound.org/people/illtype/sounds/83835/
Working with shovel.wav
https://www.freesound.org/people/Ohrwurm/sounds/64416/
Anthony Bowman
https://ia600307.us.archive.org/5/items/AnthonyBowmanThisLandIsYourLand/ThisLandIsYourLand.mp3
copyright 2014: willi paul, planetshifter.com media